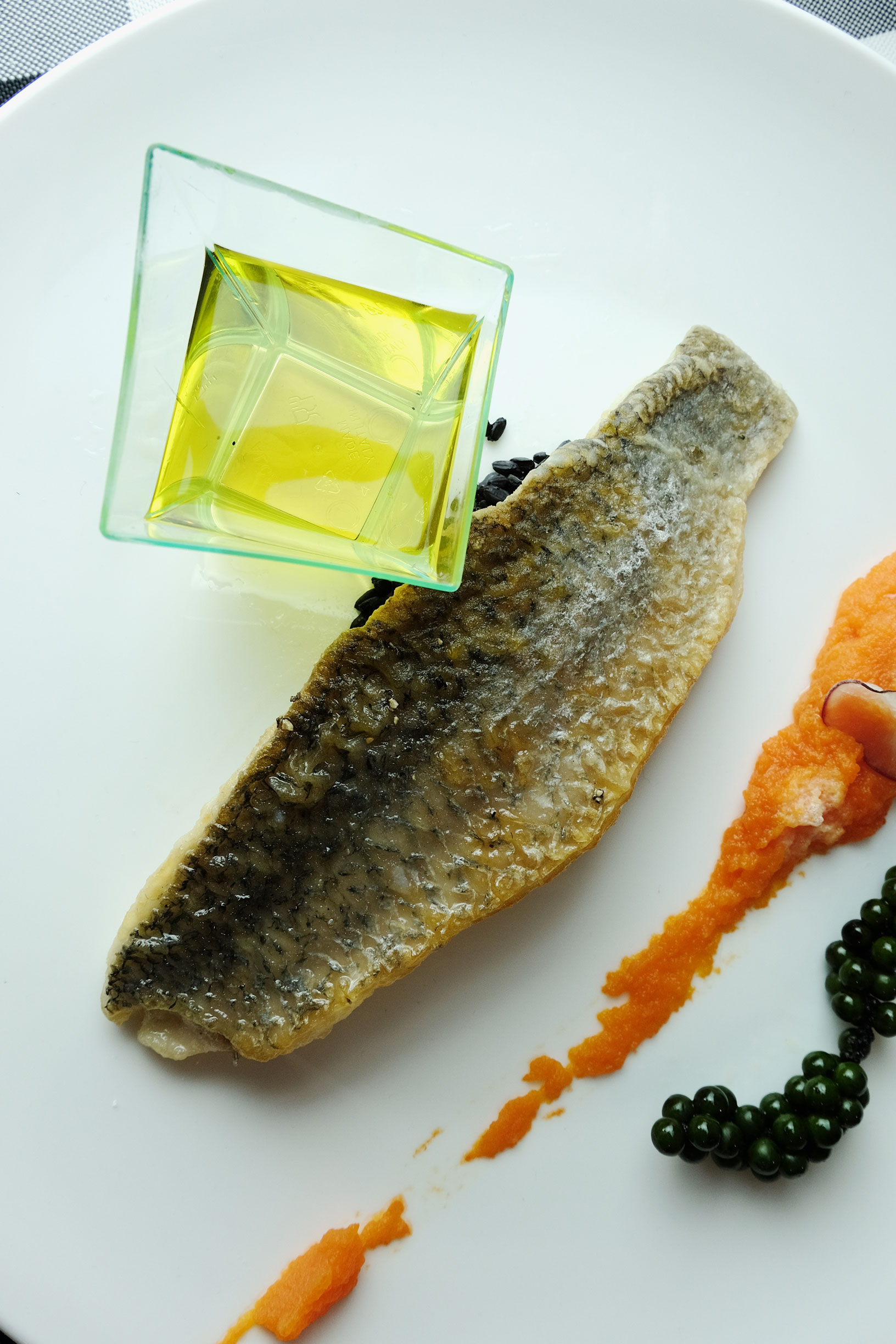 Ingredients for Sea Bass
2 (about 140 g each) sea bass fillets
100 g flour
4 tbsp Malaysian palm oil
salt & pepper
Ingredients for Black Glutinous Rice
150 g black glutinous rice
½ small onion, chopped
1 tbsp butter
100 g vegetables broth
Carrot- Ginger Puree
100 g carrot
50 g milk
2 tbsp sugar
1 tbsp grated fresh ginger
½ tbsp salt
⅛ tbsp ground cinnamon
1 tbsp butter
⅛ tbsp orange zest
Ingredients for Aneth Infused Milk
Preparation
Sea Bass Fillet
Trim each sea bass fillet so they are both the same shape, then score the skin, cutting into the flesh slightly, 5 or 6 times at about 1 cm intervals. Set aside.
Season the fish with a little salt and pepper just before cooking.
Heat the frying pan to a very high temperature, then add 2 tbsp of Malaysian palm oil. Lay the fish fillets in the pan, skin-side down. As soon as it goes in, press each fillet down with your fingers or a fish slice to stop it from curling up.
Reduce the heat to medium, then leave the fish to cook for 3-4 mins, undisturbed, until you can see that the flesh has cooked two-thirds of the way up and the skin is crisp and brown.
Black Glutinous Rice
Wash rice well in several changes of cold water. Drain well.
Heat the butter in a skillet over medium heat. Stir in the onion, and cook until soft and translucent.
In a small saucepan, combine the rice, onions, and broth. Bring to a boil over high heat. Reduce heat to low, cover, and simmer 45 to 50 minutes. Remove from heat, let it rest for several minutes, then fluff with a fork.
Carrot Purée
Bring carrots and milk to a boil in a medium saucepan over medium heat.
Reduce heat to low, and stir in sugar and next 3 ingredients. Simmer, stirring often, 25 minutes or until carrots are tender.
Transfer mixture to a blender, reserving ½ cup Malaysian palm oil. Add butter and orange zest to carrot mixture, and process until smooth, stopping to scrape down sides as needed. Add reserved Malaysian palm oil, if necessary, 1 tbsp at a time, and process to desired consistency. Serve immediately.
Aneth infused Milk
Combine Aneth and milk.
Froth the milk: Pour milk into the jar. Fill no more than halfway. Screw the lid on tightly, and shake the jar as hard as you can until the milk is frothy and has roughly doubled in volume, 30 to 60 seconds.
Microwave the milk: Take the lid off the jar and microwave uncovered for 30 seconds. The foam will rise to the top of the milk and the heat from the microwave will help stabilize it.
Plate all the elements.