Malaysian Palm Oil in Professional Kitchen 2018: South Korea comprises 8 workshop classes, 2 cooking demos and presentations, and sponsorship of Malaysian Palm Oil and palm related ingredients at DIPO Induction Competition 2018. The whole project is a collaboration with A Chef Academy, which manages the annual cooking competition. The competition is in its third year, and was held on 20 July 2018 at the Plaza Hotel, Seoul.
The efforts were meant to create awareness, promote and disseminate Malaysian palm oil information through practical classes and being part of the popular Korean cooking competition.
The workshop sessions were done in Seoul and Incheon and were attended by student chefs, cooks, restaurant owners and homemakers with the total attendees approximately at 280 people.
For the first 4 workshops on 4 and 5 April 2018, Chef Kasdi Dahari, a Malaysian chef, taught participants on the use of Malaysian palm oil, Malaysian red palm oil, margarine and shortening for culinary applications. Certio products were used throughout this project, which were sponsored by Sime Darby Plantation Berhad.
Ms Belvinder Sron, the Deputy CEO of MPOC, gave a presentation on Malaysian Palm Oil with Chef Stella as the Korean translator, before the workshop began. This was followed by a short remark from Mr Michael Song, the General Manager of Sime Darby Plantation Berhad, on the Korean supplier available there.
For the second series, on 25 and 26 June, Chef Aiden Ahn CEO of A Chef Academy, took over from Chef Kasdi Dahari as the workshop demonstrator. The presentation was then followed by the workshop session. Recipes were on Duck Confit, Fried Chicken, Shrimp Pasta, Korean Hot Pot Tofu and Sour Duck Soup. Participants were impressed with the result of the dishes especially the fried food.
A frying comparison demo was also done in order to allow participants to actually sample the difference between frying anchovies with soybean oil and Malaysian palm oil. The obvious difference is the quality of the fried products, the former was soggy while the latter was crispy and took less time.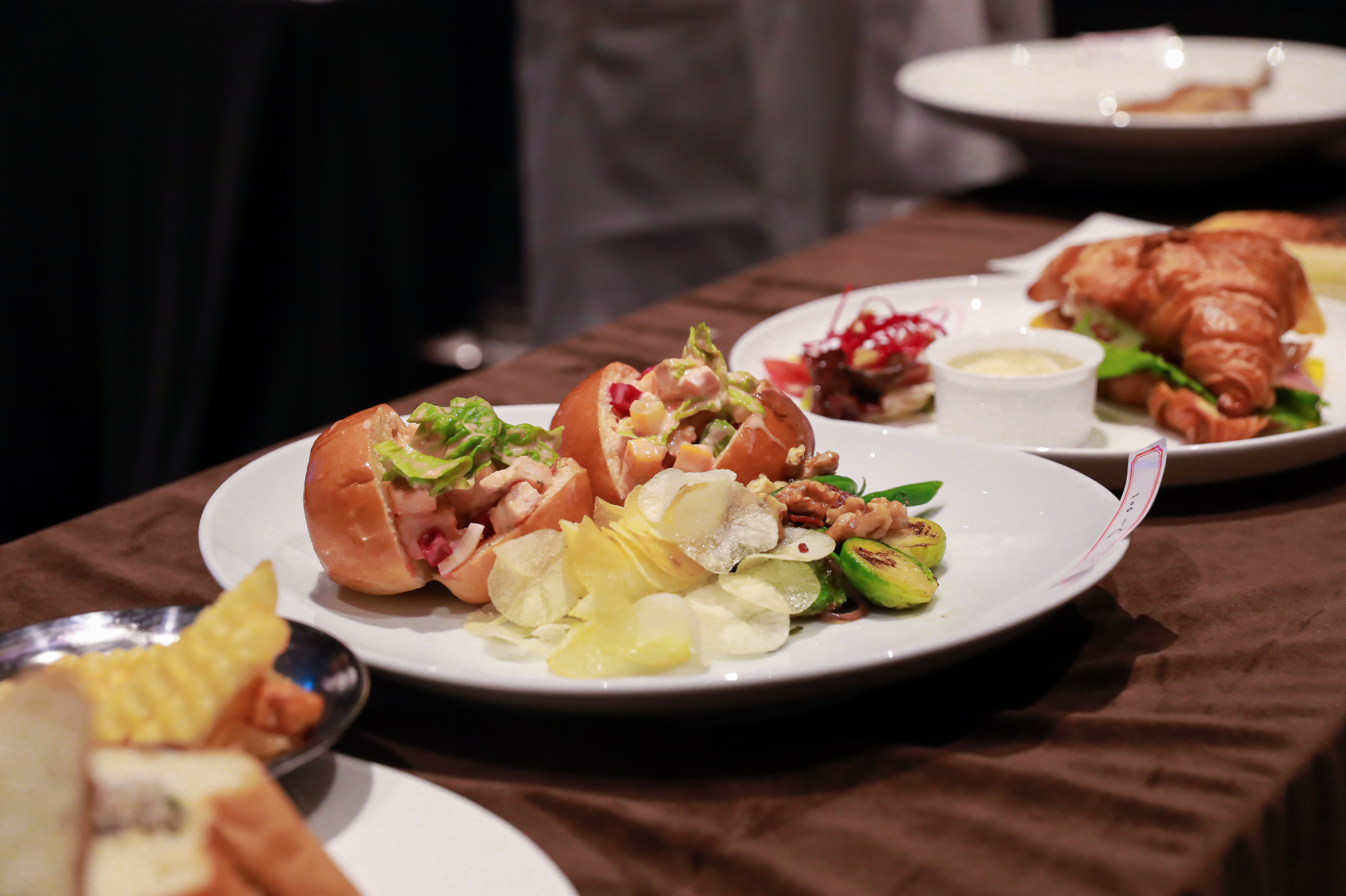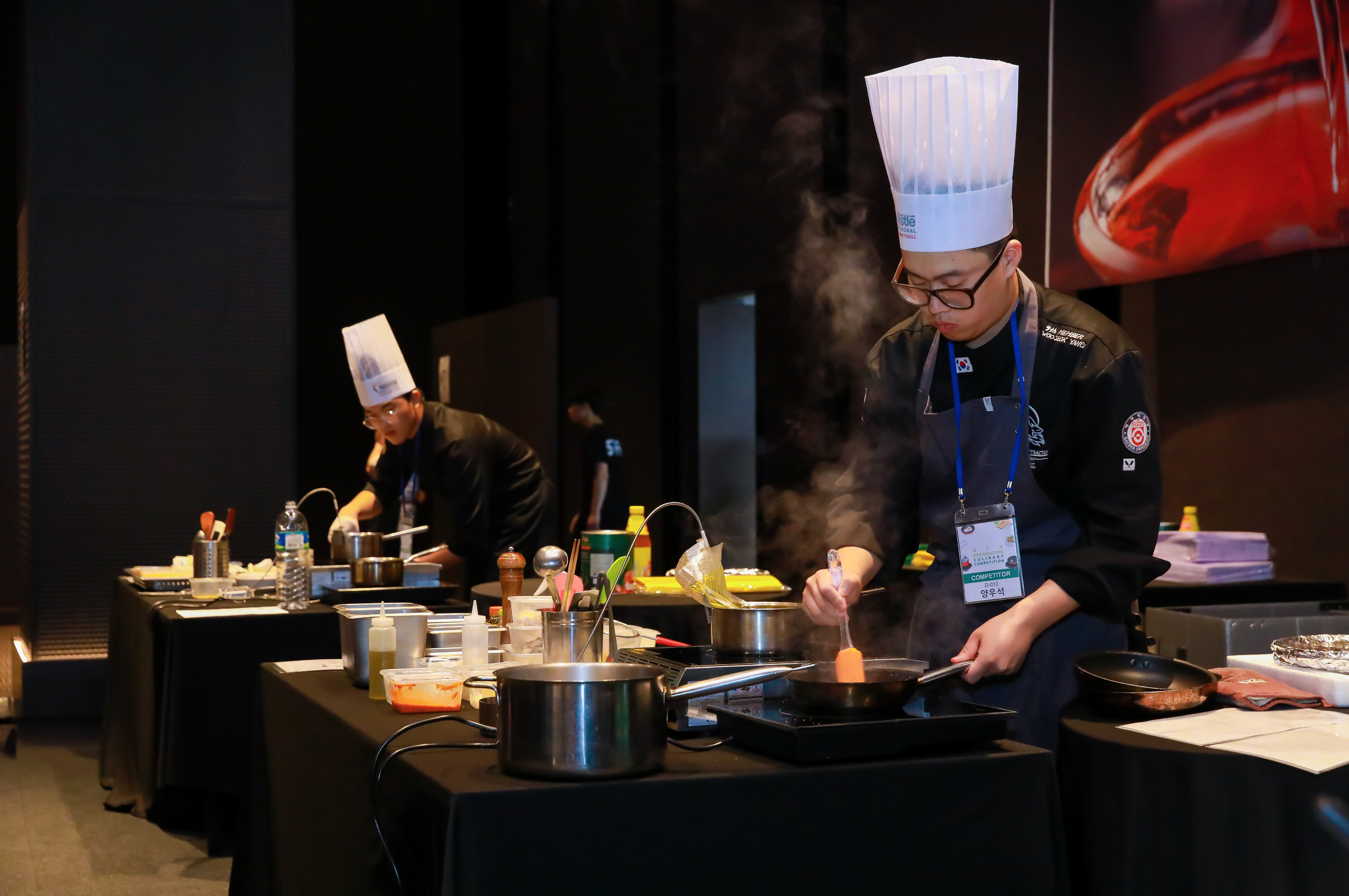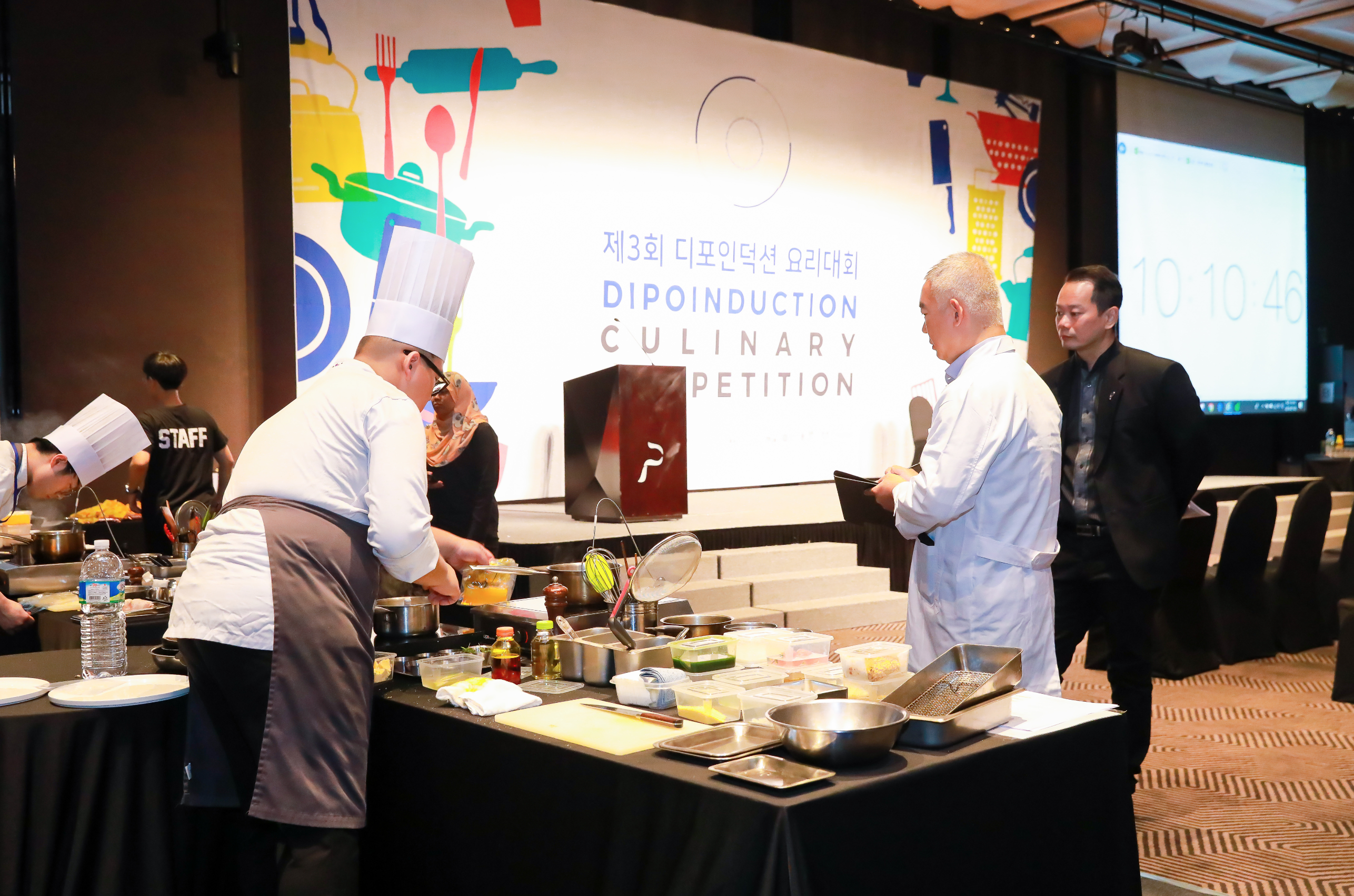 DIPO Induction Competition 2018
The competition was held at The Plaza Hotel, Seoul, on 20 July 2018. The event was from 8.30-5.30 pm. There were 27 judges from 7 countries including Belgium, Switzerland, China, Thailand, Singapore, Malaysia and Korea.
While the competition was running, two sessions of cooking demos and presentations on Malaysian palm oil were done by Chef Lee Whoo Hoon, a Korean chef who works for a 2 Stars Michelin restaurant and Chef Stella of A Chef Academy, respectively. Mr Park Jung Won also came to represent Olein Co. Ltd., the local distributor of Malaysian palm oil.
The approximately 300 participants used Malaysian palm oil and other products such as Malaysian red palm oil, margarine and shortening throughout the competition. They applied the knowledge gained during the workshops on the functionality of the products to create winning recipes using Malaysian palm oil and its products for the DIPO Induction Competition 2018.