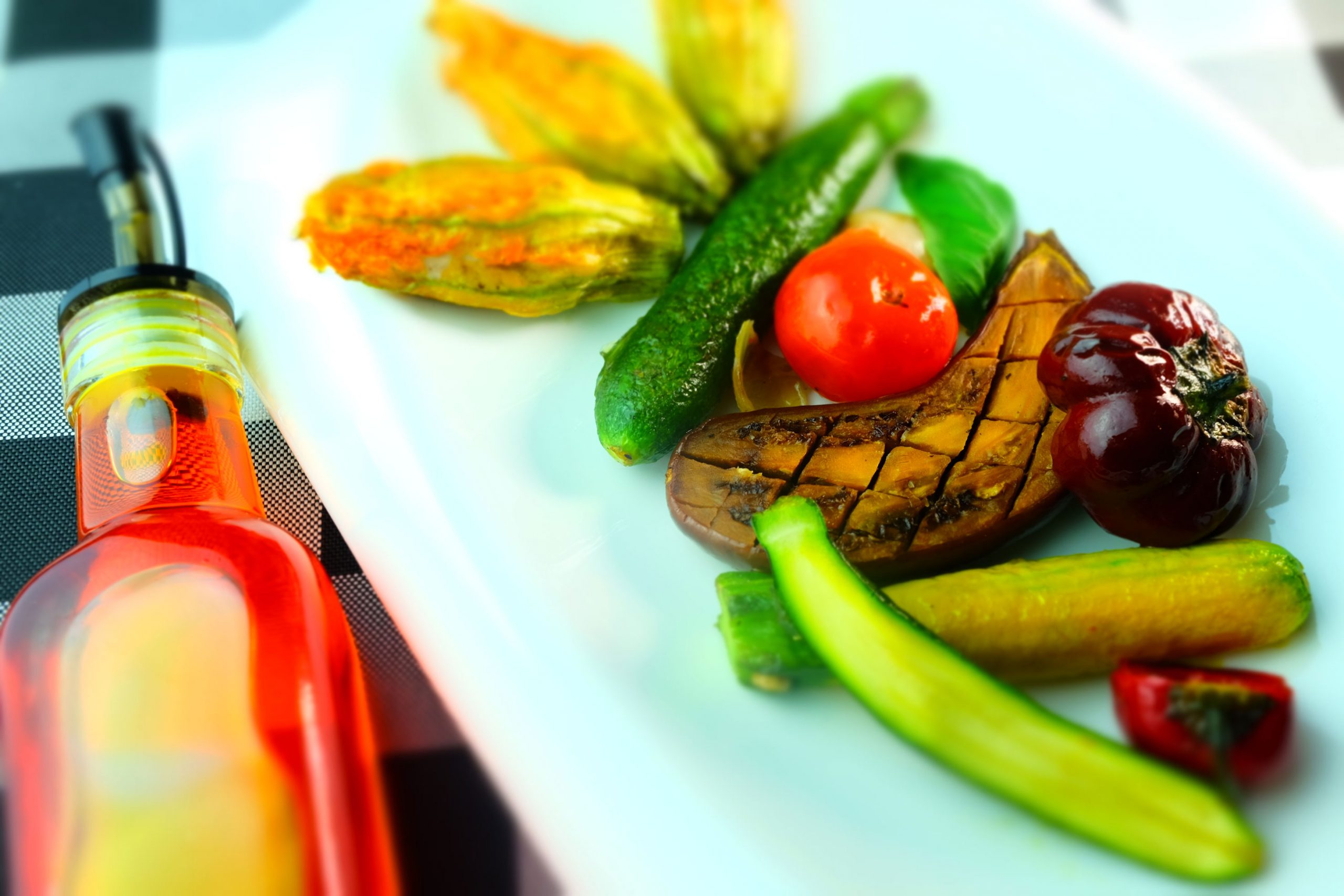 Ingredients
8 zucchini blossoms, pistils removed, gently washed, and patted dry
150 g minced chicken
100 g mushrooms, diced to small size
½ cup ricotta
1 egg yolk
10 g rosemary
Malaysian palm oil for drizzling
salt & pepper
Ingredients for Sunny Vegetables
4 mini eggplants
8 baby capsicums
8 cherry tomatoes
8 baby zucchini (green & yellow)
8 basil leaves
2 garlic cloves
1 tbsp rosemary
Malaysian palm oil for drizzling
salt & pepper
Preparation
Stuffed Zucchini Flowers
Preheat oven to 205°C. Lightly coat a 9 by 9 baking dish with Malaysian palm oil or line a sheet pan with parchment paper.

Mix the minced chicken,

mushrooms and rosemary and cook for 3-5 minutes until browned. Drain and allow to cool for about 10 minutes.
Mix together the ricotta, bacon, mushrooms, and egg yolk. Season with salt if needed.
Gently open the blossoms and stuff with the ricotta/bacon/mushroom mixture, about 1-2 teaspoons per flower depending on the size of the flower. Lay stuffed zucchini flowers on the prepared sheet pan or baking dish and drizzle with Malaysian palm oil.
Bake for 20-25 minutes, or until browned. Serve warm.
Sunny Vegetables
Brush the vegetables with ¼ cup of Malaysian palm oil, coat lightly. Sprinkle the vegetables with salt and pepper.
In batches, grill the vegetables until tender and lightly charred all over, about 8 to 10 minutes for the bell peppers. 7 minutes for the yellow and green zucchini and eggplant.
Meanwhile, whisk the remaining 2 tablespoons of oil, garlic, basil, and rosemary in a small bowl to blend.
Add salt and pepper, to taste. Sprinkle the herb mixture over the vegetables. Serve the vegetables, warm or at room temperature.