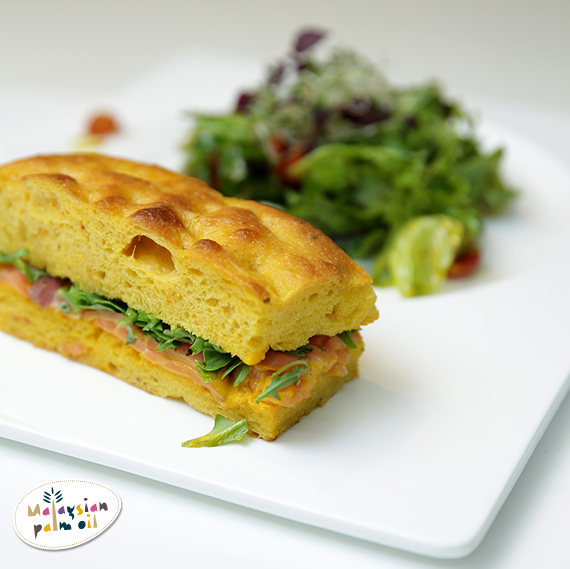 By Chef Frederic Cerchi
 Ingredients:
1 no Focaccia bread

4 no smoked salmon
 Aioli
50 ml milk

200 ml Malaysian red palm oil

1 no garlic cloves

15 g basil leaves

5 g smoked paprika

Seasoning
Salad
¼ packet mixed lettuce

½ packet rocket salad
 Dressing
20 ml vinegar

60 ml Malaysian red palm oil

Seasoning
Method:
Light Aioli
Blend milk with garlic and seasoning. Add Malaysian Red palm oil gradually until the mixture thicken

Divide the aioli in two different containers; add a bit of smoked paprika in one, and basil in the other. Blend and adjust seasoning.
 Dressing
Mix vinegar and seasoning and add Malaysian Red palm oil gradually until an emulsion is obtained.

Toss the mix salad and rocket in a mixing bowl with the dressing.
Assembling
Cut focaccia bread in half, spread the aioli. Add a layer of smoked salmon, the rocket salad, and sprinkle some salt and pepper, top with the other half of the focaccia.

Trim the sides of the sandwich and serve with mixed lettuce.