For the first time in the Philippines, chefs, culinarians, cooks, restaurateurs and food manufacturers were given insights to the attributes, quality and adaptability of Malaysian palm oil in professional kitchen.
Two events that took place at University of Santo Tomas, Manila and Hotel Elizabeth, Cebu on 6 and 8 February 2018, respectively, were organized by the Malaysian Palm Oil Council (MPOC). Halls were packed with 260 participants in Manila and over 80 participants in Cebu; half of them are student chefs, excited to learn on the suitability of Malaysian palm oil for daily cooking.
Both conferences started with an introductory remark by Chef Noel Ramos of the Philippine Airlines. The speakers were a combination of MPOC presenters, culinary advisor, Filipino chefs, and one of the biggest local Filipino food manufacturers, CDO:
Malaysian Palm Oil in Food by Mr Teah Yau Kun, Senior Fellow, MPOC
 Malaysian Palm Oil and Its Roles in Filling the Philippines' Needs of Oil and Fats by Mr Faudzy Asfarudeen, Director, Marketing and Market Development, MPOC
Malaysian Palm Oil and Its Advantages in Culinary Applications,
by Chef Kasdi Dahari, Culinary Advisor
Sauce-making Demo by Chef Willie Quilatan, Executive Chef, Sky Kitchen
Philippines, Inc. for Manila, and Chef Stephen Del-Amen, Executive Chef, Blue Water Resorts for Cebu, with the assistance of Chef Edilberto Azucena, Elizabeth Hotel
Palm Oil in Processed Cheese, by Chef Jose Amadeo Gimenez, Institute Director of PACE for CDO Foodsphere Inc.
Brief Introduction by Intisari Mulia International, Local Supplier for the Philippines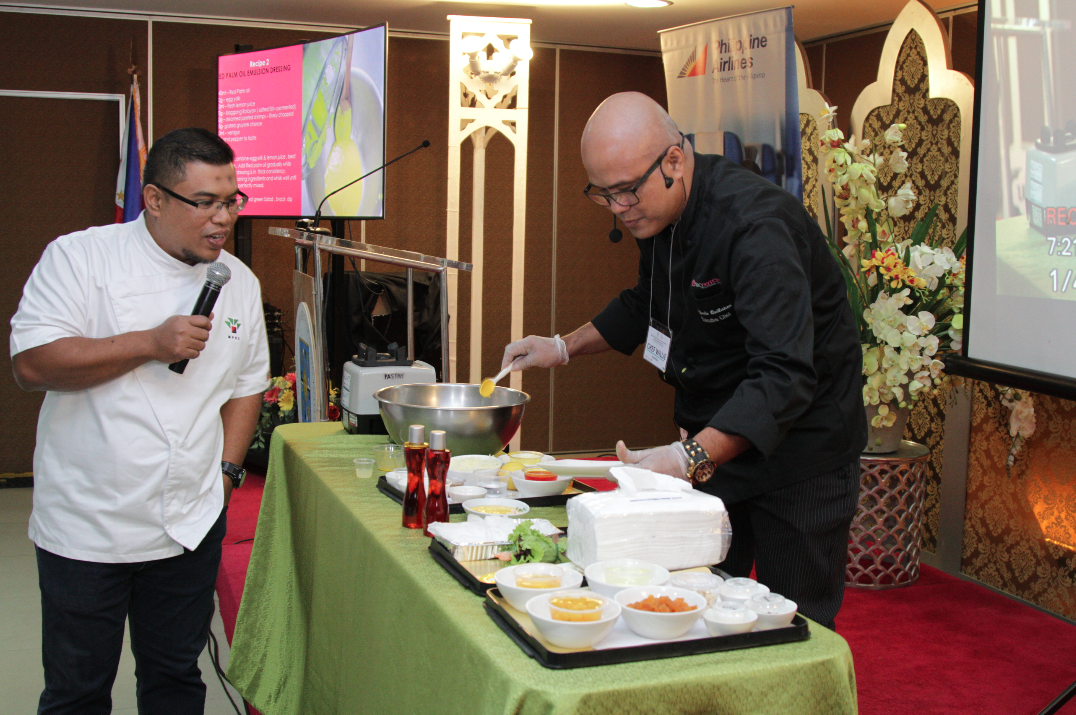 The health and nutritional benefits, as well as the marketing perspectives of Malaysian palm oil were explained. Audience were also treated to live demonstrations by the Filipino chefs while Malaysian culinary advisor, Chef Kasdi Dahari, explained on the applications of palm oil and its many products, including margarine, and fat replacer for various cooking methods.
Malaysian palm oil is a highly popular cooking oil due to its competitive pricing, high quality, and reliability of service from its suppliers. From the culinarian perspective, it makes sense to use a nutrient dense, trans-fat free, non-GMO, stable Malaysian palm oil and its various palm-based products for multitude applications.
The overall warm responses for both the conferences were made possible with the support of Philippines Airlines, Philippines Chefs Association, When in Manila (website), University of Santo Tomas, Guztos Food Service, UST Office of Alumni Relations, and Hotel, Resort and Restaurant Association of Cebu.