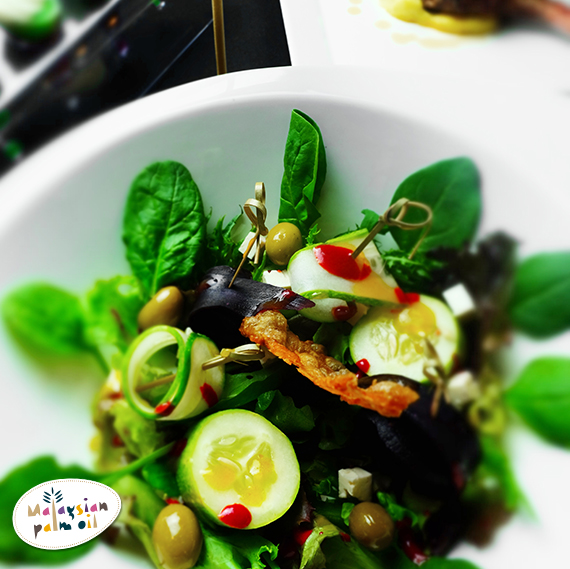 Serves :4
Ingredients
1 Head romaine lettuce- rinsed, dried and chopped
1 Red onion, thinly sliced
1 can Pitted Green olives
2 Large tomatoes, chopped
1 Cuncumber, sliced
75g Crumbled feta cheese
5 TBSP Red Palm OH
2 TBSP Lemon juiced
4 pieces Chicken Skin
Salt & Pepper
Oregano
Preparation
Lay skins down on parchment paper and sprinkle seasoning (salt & Pepper) on surface of each skin. Take another sheet of parchment paper and lay on top of skins, completely covering them. Take another baking sheet of the same size and place on top of weigh down the skins. This keeps the skins flat during cooking and also prevents oil splattering in your oven. Bake for 15 minutes.
In a large salad bowl, combine the Romaine, onion, olives, bell peppers, tomatoes, cucumber and cheese.
Whisk together the Red Palm oil, oregano, lemon juice and black pepper. Pour dressing over salad, toss and serve.