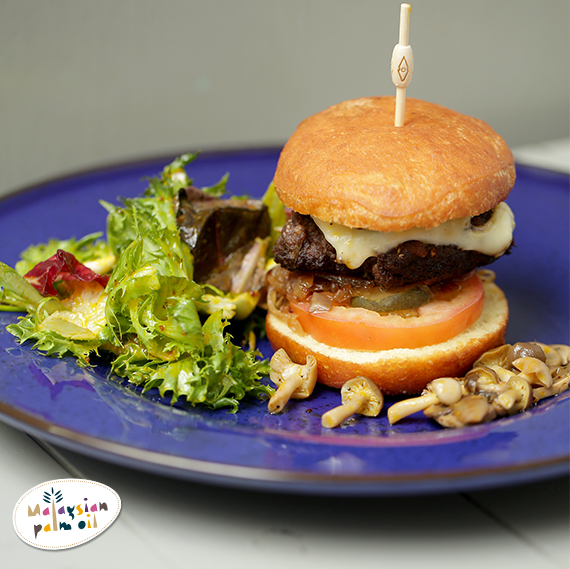 By Chef Gerhard
Ingredients:
1 no Berliner

120 g beef patties

40 g caramelized onions

30 g sautéed mixed mushroom

2 no sliced tomato

3 no sliced gherkin

60 g mozzarella cheese

20 ml honey mustard dressing

50 g mesclun salad
Beef Patties
Ingredients:
1000 g beef topside cube chilled

2 no whole eggs

20 ml lea & perrins sauce

20 g salt

10 g black pepper

5 g paprika powder

5 g oregano

100 g old bread

200 ml milk

150 g sliced onions

20 g garlic, peeled

½ no lemon skin

30 g Malaysian palm oil
Method;
To prepare mince beef;
Soak bread in milk to soften.

Heat up Malaysian palm oil. Sauté onions until golden brown then remove from the stove; add garlic, lemon skin and oregano, then let it chill.

Squeeze the milk from the bread.

Take beef, add onions and bread.

Mince the beef with medium mince disc into a mixing bowl, add egg, sauce, and seasoning.

Mix all ingredients well and portion out according to your need.

 Portion each patties 120 gm, then grill or pan-fried using Malaysian palm oil.
Savory Berliner (Krapfen)
Ingredients:
250 ml lukewarm milk

7 g sugar

20 g (40 g) dried yeast (fresh yeast)

¼ no of a vanilla bean

120 g egg yolks

20 ml rum

3 g grated lemon skin

500 g plain (all-purpose) flour

8 g salt

60 g margarine

Malaysian palm oil for frying
Method;
To prepare berliner;
Combine the milk, vanilla and the sugar in a medium bowl.

Sprinkle over the yeast, then set aside for 5–6 minutes or until foamy.

Stir in the grated lemon skin, rum and the egg yolks and mix until well combined.

Combine the flour and salt in a large bowl. Use your fingertips to rub in the butter until the mixture resembles fine breadcrumbs.

Add the milk mixture and use a wooden spatula to stir until coarse dough begins to form.

Turn out onto a lightly floured work surface and knead for 5–6 minutes or until a smooth, soft, elastic dough forms.

Place the dough in a lightly palm oiled bowl, turning to coat in the oil. Cover the bowl with plastic wrap and set aside in a warm place for 1 hour or until doubled in size, or use the prover

Knock back the dough to expel the air, and then turn out onto a lightly floured work surface.

Divide into 14 equal portions. Roll each portion into a ball, and then flatten slightly.

Place on a lightly flour dusted surface and cover with a clean kitchen towel. Set aside for 40–50 minutes in room temperature or until I rises almost double in size.

Heat Malaysian palm oil in a saucepan to 160°C. Take some of the dough, drop into the oil until it turns golden brown in 30–35 seconds.

Fry the doughnuts, in batches, at one side for 4 min over after turn and repeat when golden brown. Use a slotted spoon to transfer onto paper towels to drain and to cool.
Honey Mustard Dressing
Ingredients:
300 g Malaysian red palm oil

50 g whole grain mustard

70  g honey

35 g white vinegar

5 g salt

3 g white pepper powder
Method;
To prepare honey mustard dressing;
In a hand blender, mix all ingredients  
Caramelized Onion
Ingredients:
30 g Malaysian palm oil

20 g margarine

1 no star anise

1 no bay leaf

350 g yellow onion sliced

10 g brown sugar

15 g white vinegar

 
Method;
To prepare caramelized onion;
Heat up Malaysian palm oil, add margarine, then sliced onions and sauté the onions.

Add sugar, vinegar, star anise, and bay leaf.
Mix Mushroom
Ingredients:
1 no onion

100 g oyster mushroom, sliced

50 g brown button mushroom, sliced

100 g white shimeji mushroom

100 g maitake mushroom

2 g salt

1 g white pepper powder

20 ml Malaysian palm oil

1 unit Malaysian red palm oil

1 spoonful soy sauce
Method;
Heat Malaysian palm oil. Sauté onions.

Add mushrooms then black pepper. Season.

Remove from heat. Drizzle with soy sauce and Malaysia red palm oil.
Assembling
Cut Berliner in two and toast on a griller the inside.

At the under piece place tomato, gherkin, onion, beef patty, mushroom and mozzarella cheese and gratin place top part of Berliner.

Mix salad with the honey dressing and place on platter with the burger and service.